[two_fifth]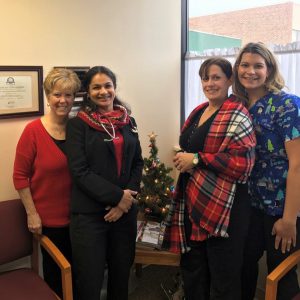 [/two_fifth]
Dr. Varalakshmi Niranjan is an internist in West Hartford, CT, and Director of Tamil Nadu Foundation. Through her volunteer works and "Nalam Vazha" book (proceeds from selling that book were donated to TNF), her staff are familiar about TNF's service to the needy.
Dr. Niranjan runs a physician supervised weight loss program that provides protein bars and snacks for patients. Her staff were interested in buying those snacks for personal use. The snacks were sold at a subsidized  rate to staff. The staff paid $1 per snack throughout the year 2017. At the end of the year the pot had $374. When Dr. Niranjan asked her staff for ideas about what to do with the money, her office staff unanimously wanted to donate to TNF.
They were all extremely happy to donate to Anbalayam for which Dr. Niranjan had donated the proceeds from her book Nalam Vazha – a book on health education.Dr. Niranjan was extremely happy to hear this and agreed to match the funds and donated $750 to Anbalayam, a TNF project that cares for orphaned special needs children in Sirkali. This illustrates there are lot of new ways we can donate and make others donate. Every dollar matters .
சிறு துளி பெரு வெள்ளம். சிறுக சிறுக சேமிப்போம். சிறுவர்கள் வாழ்வு சிறக்கச் செய்வோம்
புத்தாண்டு வாழ்த்துக்கள் !